Meet Our Telecommunications
Leadership Team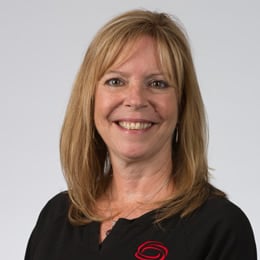 Kelly Hebbard
General Manager
Hebbard entered the telecommunications industry in 1999 and has been with FastTrack since its inception. Originally from the Chicago area where she studied business management and law, Hebbard had been handling project management for Oakridge National Labs in Grand Junction when the opportunity to join the telecom organization emerged. Hebbard provides leadership and vision to FastTrack Communications by assisting the board and staff in developing long-range strategic planning and annual plans. Hebbard oversees the telecom organization's daily business and engineering operations, including regulatory, financial management, sales, marketing and PR, human resources and customer service.
Network Engineering
Drew Redman
Director of Network Engineering and Operations
Morgan Blue
Network Engineer II, CCNA
Seth Miller
Network Engineer II, CCNA
Matthew Linville
Network Engineer II, CCNA
Jonathan Brewington
IT Support Specialist
Outside Plant
Tony Shablo
Project Engineer and Estimator
Doug Miller
Network Installation Specialist








Sales and Customer Service
Stacie Davis
Telecom Service Specialist
Michelle Bishop
Customer Service Coordinator
Accounting
Jennifer Macho-Seekins
Accountant
Dreama Holguin-Brummond
Bookkeeper/Accounting Assistant
Joe Wheeling, Chairman
Ted Compton, Vice Chairman
Karen Barger, Secretary
Robert Barry
Tim Wheeler
Kent Curtis
We're growing! Join the team.
We offer talented individuals stable employment, benefits and competitive salaries in one of the most beautiful places on earth — Durango, Colorado.