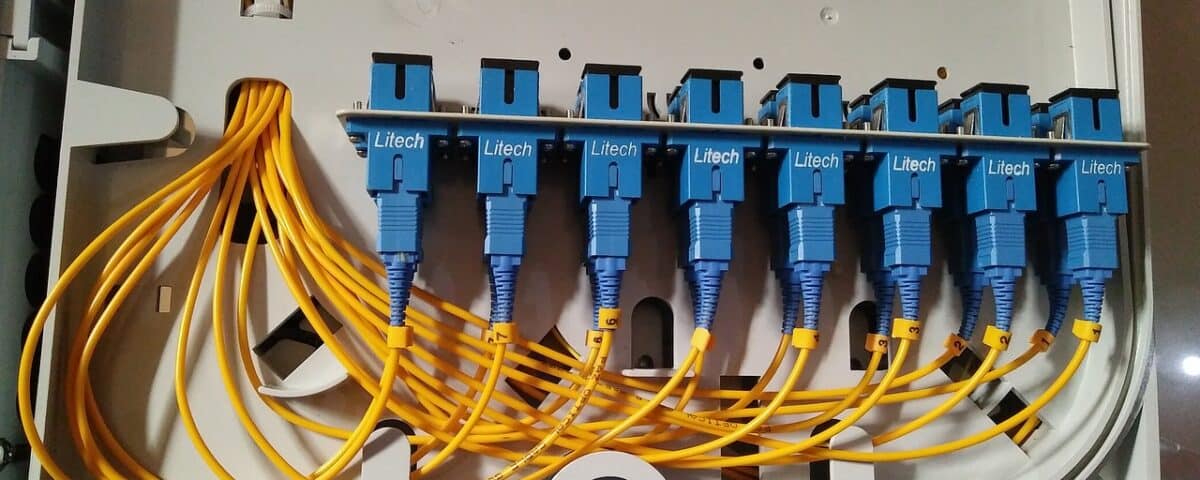 High-Speed Internet Service
Understanding the differences between fiber vs cable internet is important when exploring the features offered by various internet providers.
Businesses rely on dependable communication and having a strong internet service to reach customers promptly - so it's important to know the types of internet and how they operate.
A reliable internet provider with high-speed access and affordable, transparent pricing is a must for businesses. FastTrack Communications offers fiber optic internet that is scalable and as well as fiber voice solutions.
A unique benefit of working with FastTrack is it's superior locally-based customer service. FastTrack also offers various subscription packages with a range of voice and internet options.
In addition to 99.99% reliability, we offer 24/7 tech support and superior customer service. FastTrack is a one-stop-shop high speed, fiber-optic internet provider that offers both internet and voice services for small business and large enterprises.
Businesses appreciate the easy installation process FastTrack's high-quality fiber optic internet employs. Read further to learn about the differences between fiber vs cable internet. Discover the efficient world of fiber optic broadband internet.
What Is Cable Internet?
The primary difference between fiber and cable internet can be found in their respective functionalities. We often associate watching TV with cable internet. Cable broadband is a form of high-speed internet connection. A key feature of cable internet is that it uses infrastructure from cable television to provide internet access. Thus, cable combines both television and internet access in one service.

Determining the difference between fiber vs cable internet begins with describing the internal structure of cable internet. Coaxial cables are an older technology employing copper cables that utilize the existing infrastructure originally used to send television signals. The cables build upon a current network that brings television to your home or business.

Fiber internet vs cable internet reveals the differences in the structure of cable compared to fiber optic. Cable broadband internet consists of conductors, insulating material, and conductor shields. There is a fair amount of insulation around the cables since the wiring is exposed.

This type of wiring is susceptible to harsh weather and climate changes. Occasionally, copper cables do not withstand time or freezing conditions and that can speed up the aging process.

Consider an internet provider that employs durable materials that will stand the test of time when choosing an internet provider. Doing so will maximize the efficiency and communication channels in your business.

Additionally, a modem is required to work in tandem with the copper cables to deliver internet access. An electrical wire runs from the cable modem termination system (CMTS) to the modem. The modem system is powered by an internet provider.

Keep in mind that this type of internet has limitations on the range of its bandwidth. Bandwidth is the amount of data that can be sent and downloaded in megabits per second.

Your modem termination system can only span the area your internet provider operates in, but there are a few bandwidth options that cable broadband offers.

Oversubscription can occur with cable broadband if there is less availability of plans and fewer choices in providers. As businesses grow, they need to increase their capacity to receive digital information and that means improving the quality of both upload and download speeds. When there are too many subscribers on cable connection the speed of the connection slows.

More often, internet speed relies on a high-quality internet provider. High-speed data transmissions at lightning-fast speeds are available with FastTrack Communications. FastTrack is the only local, high-speed fiber optic ISP (Internet Service Provider) in the Northern New Mexico and Southern Colorado regions.

Even small businesses have numerous computers to power. They may also be using cloud-based applications, processing credit cards, and running video conferencing. All these tasks require a fast, reliable and secure internet connection that is not oversubscribed. A high speed fiber internet provider is the clear choice for most growing businesses.

With cable broadband, copper cables are deployed, connecting each IP server and company computer. These electrical wires converge at some point. Eventually, the coaxial cable reaches the internet service provider's (ISP's) main network. From there, the network powers the internet for the entire building or store.

Further, examine the three main components of cable internet below. Discover the difference between fiber vs cable internet at an in-depth glance.
Modem
The modem is a box or system within your business that facilitates the connection between computers within the building and the cable internet provider. A router may be used to sync multiple devices to the internet. This is a feature that helps maintain efficient communication.


Cable Mobile Termination System
This is a hardware system that connects your modem to a cable company's internet service.


Coaxial Cable
Consists of a copper core, insulating sheath, aluminum shields, and an outer plastic layer. It allows for the transmission of data across a distance.


Cable Modem
A cable modem connects your business computers with an ISP. It receives signals from your internet provider and transfers that data digitally to a router. The router brings internet access to your computers through a local network via an ethernet cable.

For cable internet, commercial and residential services are separated. However, businesses can have many more users operating on the system at a single time.

Make sure that the internet provider you choose is reliable, has a large bandwidth capacity, and can deliver stable internet access to your business that is not oversubscribed.

The cable modem speeds are displayed in a measurement system known as Data Over Cable Service Interface Specification standard (DOCSIS). This measurement feature is what facilitates data to transmit to your computer from a cable broadband provider.

A cable modem internet package operates under an asynchronous delivery. The asymmetry leads to different download and upload rates. Working with a provider with secure symmetrical upload and download speeds decreases the possibility of a bottleneck where altered speed network connections or congested data can occur.
Introduction To Fiber Optic Internet Cable
Distinguishing between fiber vs cable internet is based on how each type of internet service operates. Cable broadband relies on traditional copper wires to function. Fiber internet service utilizes a fiberglass core instead of an electrical current.
A fiber optic internet cable line is used to transmit digital data as light signals through optically pure strands of glass thinner than a human hair. It is the most technologically efficient, fast and secure method to transmit data.
Fiber optic internet lines can broadcast data reliably at high speeds. The speed of fiber optic internet cable lines depend on the availability of a wide range of broadband options and subscription features.
Additionally, fiber optic speed is less susceptible to damage from harsh weather. This is because fiber optics transmit data digitally by sending light through glass fibers which are stronger than copper.
Optical fibers are much thinner than cable wires and have a core of small glass fibers thinner than a human hair. Fiber optic cables consist of a thick cladding that wraps around the glass fiber center. The cladding helps electrically conduct the optical fibers. A high rate of conduction and optically pure glass fibers refract and reflect the light that powers the digital transmission of data.
Typically, optical fibers bundle together to form a fiber optic internet cable. Fiber optics carry pulses of light in binary form. This differs from the traditional coaxial cables made out of copper.
Once the light pulses reach their destination, the energy is converted into an electrical signal that your business's computers and devices use. This is performed by a special piece of equipment called the optical network terminal, which then sends the signal through an Ethernet connection to the computer
Fiber optic internet cable is an advantageous choice for businesses that require using cloud-based applications, video conferencing, frequent credit card transactions or transfers of large amounts of data. A fiber-connected business can deliver exceptionally fast internet reliably and securely.
FastTrack Communications is a locally owned, internet providers in Durango CO that can help your business communicate with consumers and clients over a 99.99% reliable network that maintains a 100 G network backbone.
Slowdowns during peak times of the day due to oversubscription or lack of scalability are almost non-existent with an advanced fiber optic internet provider.
Contact us for a service request to sign up for a scaleable, high-speed internet service that grows with your business. Explore what is fiber internet, its benefits, and its features.