It probably comes as no surprise that just as the internet has become an integral part of our personal life, it has also become a fundamental component of your business.
Whether your business focuses on customer relationships or data management, a reliable internet connection is essential to your success.
Fortunately, in today's market, there are many internet options for businesses - large and small.
However, which is the best internet option and how do you choose what's best according to your business needs? The short answer is to always go with an internet provider that offers high speed and excellent reliability.
But which of the many high-speed internet options is really the best?
Aren't all internet providers essentially the same?
No, not at all! In this guide, you'll discover the various types of internet connections and how they compare.
We'll also demonstrate how FastTrack Communications offers the best internet options for your business.
Get Better Internet Solutions
Looking for a less expensive, feature-rich internet calling alternative to standard local telephone service?
What is the Best Internet to Get for Businesses and Communities?
Before we determine which kind of internet is best, let's take a look at the various types that are available in most markets.
Cable
Cable internet is a popular option that has been available for a long time. Most people understand that cable internet uses a traditional internet connection that works with coaxial output like cable TVs.
The coaxial cables receive electrical signals and then sends the signal to the internet via a modem. With regards to internet speed, you can get up to 100Mbps.
However, the average internet speed is just 35Mbps. A clear disadvantage of having a cable internet connection is that you can experience downtime if there is degradation in the cables.
Dial-Up
Dial-up internet is what first introduced the world to online access. It uses PSTN (Public Switched Telephone Network) to access the internet.
Simply put, your internet service travels the same telephone lines you use for voice calling. This particular platform is known for slow internet speeds and poor bandwidth. The dial-up connection delivers an average internet speed of just 56Kbps using v.92 protocols.
Like cable internet, you are prone to encounter downtime and poor bandwidth with a dial-up connection. Additionally, dial-up internet transmits electrical signals which are not secure and easy to hack, thus opening your data to cyber criminals.
DSL
Similar to a dial-up connection, DSL also operates on telephone lines and PSTN technology. However, the primary difference is that DSL has an asymmetric configuration and delivers higher downloading capacity.
Therefore, you get an average internet speed of 5-35Mbps. While theoretically faster, DSL is still not fast or secure enough to meet modern business needs.
For some areas of the country, considering all the internet options available, DSL may be the best internet option. Fortunately, that's not the case for FastTrack Communications customers in Colorado and New Mexico as there's an even better option.
Fixed Wireless
Fixed wireless is another cost-effective internet option based on LAN infrastructure. With fixed wireless, the service provider uses wireless communication devices to create a network between two locations.
This could be any two locations that enable the internet in your business. Fixed wireless can offer 10-25Mbps on a clear day. However, you may experience problems in situations like bad weather conditions and physical obstacles. Fixed wireless is also not considered safe as radio signals are the easiest to hack for cybercriminals.
Satellite
As the name describes, satellite internet works with geostationary satellites. The satellite stays in low-earth orbit to offer relatively low latency.
While internet speed with satellite internet is decent, it is prone to downtime due to adverse weather. If it is cloudy or rainy you may experience outages which could adversely affect your business.
Fiber optic
Fiber optic internet is the fastest and most reliable among all the internet options. As the name describes, it works with fiber optic cables to deliver 10G+ internet.
Unlike other connections previously mentioned, the fiber optic network transmits light signals instead of electrical ones. This means your data transfers at the maximum speed and stays safe against hackers.
You will enjoy fiber internet speed of 10G and beyond and a 99.99% reliable connection with FastTrack Communications. A fiber internet connection is consistent regardless of the weather condition. You can make your business run on the best internet connection out there, all you need is to consult one of the best high-speed internet providers like FastTrack Communications.
It's clear that fiber optic-based connections offer the best internet. For maximum speed, stability, security, and efficiency, fiber optic internet is the best choice for businesses.
FastTrack Communications is proud to be one of the best high-speed internet providers in Southern Colorado and Northern New Mexico. If you're looking for the best internet options near me, click here https://fasttrackcomm.net/fasttrack-service-request/ for more detailed information.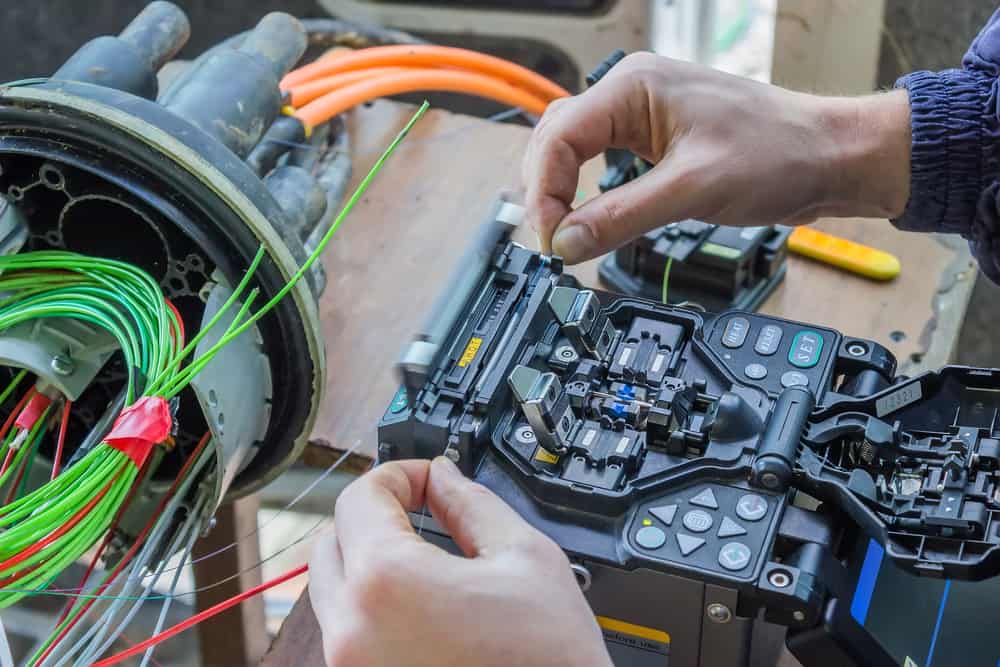 Comparison of Internet Options Available
| | | | |
| --- | --- | --- | --- |
| Internet Option | Top Feature | Estimated Cost | Estimated Bandwidth Allocation |
| Cable | Operates without a phone line. | $19.99-$125.00 per month | 1.2 Gbps |
| Dial-up | Cheapest internet option. | $5-$10 per month | 35 Kbps |
| DSL | Use existing telephone wiring, no additional expenses on upgrades. | $39.99-59.95 per month | 140 Mbps |
| Fiber optic | 10G+ internet, secure light signals, VoIP services, 99.99% reliable connection. | $25-$299.95 per month | 10 Gbps+ (10,000 Mbps) |
| Fixed wireless | No wired setup required. | $35-$249.99 per month | 100 Mbps |
| Satellite | Global coverage. Best for remote areas. | $30-169.99 per month | 100 Mbps |
Considering the benefits, FastTrack Communications is the best option for fiber optic internet in the region. We understand that every business has unique goals to achieve and therefore has different internet needs. At FastTrack, we understand how confusing it can be and have provided details below on the best internet options for your business. Let's take a look at what we include in our fiber optic internet services.
Business-grade high-speed internet
Our business-grade high-speed internet is what makes us the best internet service provider in Durango, Colorado and Farmington, New Mexico. We include multi-homed gateways, burstable ethernet, and BGP peering to meet your business needs. FastTrack Communications has a fiber optic network of over 450 miles in this region. As a FastTrack customer, you will enjoy 10G+ internet with 99.99% uptime and data security. We can help you manage all the various aspects of your business as it relates to proper bandwidth utilization.
Data transport
No doubt our business-grade high-speed internet is perfect for regular business usage. But what if you're transferring terabytes or petabytes of data? Our data transport services are a lifesaver. We offer MPLS (Multiprotocol Label Switching), customizable ethernet private line, and SONET services to assist with cloud-based applications and payment processing. Confidently share large data files with your clients, employees, and multiple offices at an affordable price. In addition to data consumption, you have the support of our 100g fiber backbone for fast and secure data transfer. This means sharing large-scale data is more flexible, secure, and efficient than ever before.
Customized engineering
As discussed earlier, every business has unique procedures, goals, and internet requirements. Considering this, we offer customized internet services according to your budget and requirements. If you want more information about customized engineering, visit https://fasttrackcomm.net/services/transport-services for details. You can also consult our experts for free and request a quote by calling us at 877-755-0558.
VoIP
In addition to internet options that help you download, upload, and manage your data. VoIP (Voice over Internet Protocol) is another necessary component for most business operations. FastTrack Communications offers hosted voice services based on our fiber optic network. Our VoIP services enable a secure, scalable, and 99.99% reliable voice service. In addition to voice calling, you will enjoy various features such as caller ID, call recording, blocking, and voice assistant with FastTrack VoIP. Another plus is that our services are ready-to-use with your existing Cisco-based hardware.
Bundled Services
Why invest in multiple services when you can combine them all into one? Yes, that's possible with FastTrack's bundled services. From VoIP to 10G+ internet, FastTrack offers all the internet services you require for your business.
Our affordable fiber solutions are available for just about any business — big or small. FastTrack has a robust fiber optic network that is over 450 miles in the region.
We provide a 99.99% reliable internet connection for smooth cloud-based operations. Even at the busiest times of day or month-end, the internet connection stays stable and secure.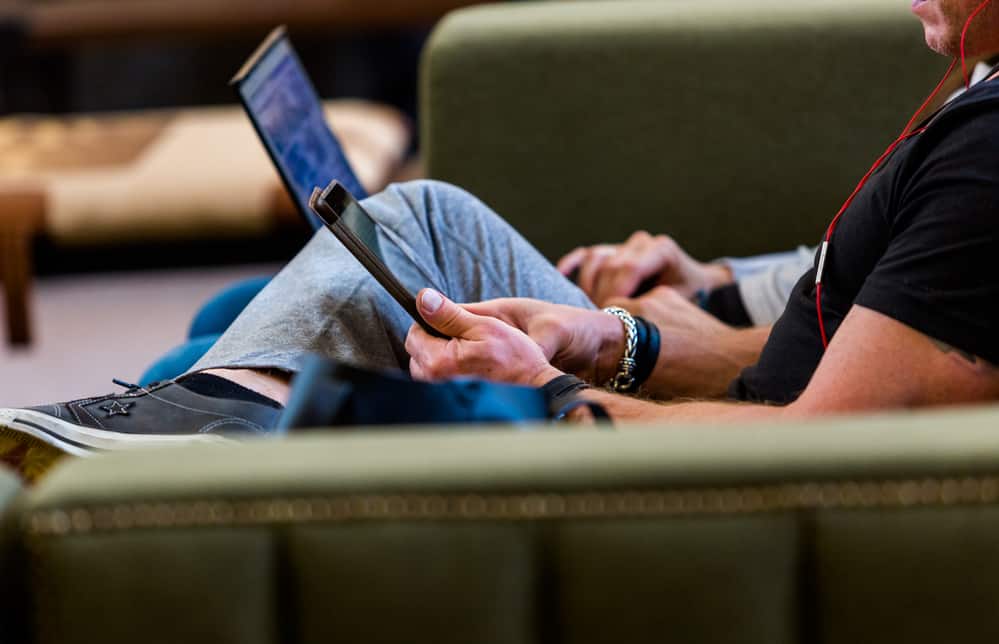 How to Identify What's the Most Suitable Internet Connection for You?
As you research the internet options available for your business, there is more to consider more than just the type of internet. Let's explore what is the best internet for your business needs. Here are six essential aspects to consider when choosing the best internet connection for your business.
Internet speed
Internet speed should be fast and consistent every time. Fiber optic internet offers the highest connection speed of over 10Gbps. With 10G+ internet, it is 100x faster compared to DSL and cable internet connections.
Stability
No doubt internet speed is crucial if you're looking for the best internet connection. But what if it is unavailable when you need it most? We recommend choosing an internet connection that is dependable regardless of weather conditions or number of subscribers.
Fiber optic networks rely on light signals that are consistent and offer 99.99% reliability.
Pricing
When it comes to internet options, cheaper is not always better.
Look for the options that gives you the best value for your money. For instance, choosing a fiber optic internet connection at $25/month is better than investing in a $10/month dial-up connection.
Fiber optic internet is the clear choice as it offers 10G+ internet as opposed to a dial-up internet connection that can't reach 100Kbps of bandwidth, is not stable, and is subject to downtime.
Features
Not all fiber optic internet service providers are the same. Find out which additional features come standard with the plan you're considering.
From VoIP to bandwidth reports, the fiber optic service provider may offer additional various features at an affordable price.
Be aware that some companies have additional charges for services such as global calling, after-hours customer support, and customized analysis reports.
Internet service provider
Choosing the right internet service provider is important regardless of the speed of the connection.
We recommend choosing a local service provider that operates near you and understands your unique needs. Unlike a national service provider that is out of touch, a locally owned and operated business such as FastTrack understands the concerns of local businesses and can assist you accordingly.
Installation
A fast and feature-rich internet connection should never cause you inconvenience. So, choose an internet connection that doesn't require a difficult installation.
Not only does it prevent complexity, but it also saves you cost on additional equipment. Also, consult a local internet service provider for faster and more reliable installation. Are you looking for high-speed internet providers in your area?
FastTrack Communications is a locally owned and operated fiber optic internet provider in Durango, Colorado. Give us a call at 877-755-0558 or drop us an email at info@fasttrackcomm.net to consult our professionals for free.
NEED HELP WITH YOUR INTERNET
FastTrack Communicatioins provides the most effective and robust internet solutions in Durango, CO and nearby areas. See our comprehensive internet bundle plans and learn how our services can help local businesses and communities with their internet.
Final Thoughts: Need Help on Choosing Your Internet Connection?
We have discussed various internet options and the 6 essential aspects to consider when making an internet provider decision. We hope that this has helped you as you explore which internet provider and internet option is right for you.
We think that you'll conclude that a fiber optic-based connection is the best internet for businesses in Durango and Bayfield, Colorado as well as Farmington, New Mexico.
From 10Gbps speed to HD calling, fiber optic internet offers everything you expect from a Durango internet service provider.
As a top internet provider, Durango business owners like yourself can take advantage of all the benefits that FastTrack Communications high-speed internet offers.
FastTrack's fiber optic internet network also delivers high-speed internet to Northwest New Mexico. We are proud to be one of the top Farmington, NM internet providers offering data transport, voice bundled solutions, and customized telecom solutions to that region.
If you're looking to enable fiber optic internet in your business, FastTrack Communications can help. We offer an array of fiber optic internet services at an affordable price.
Call us today at 877-755-0558 or drop us an email at info@fasttrackcomm.net to explore our services. Also, visit this page https://fasttrackcomm.net/fasttrack-service-request/ to request more information about our internet options for business.