Hosted VoIP (Voice over Internet Protocol) is essential for many businesses. VoIP features allow for streamlined communication like call routing and so much more. In order for most businesses to operate effectively and efficiently, Hosted VoIP provides a hassle-free and economical solution.
However, there may still be some confusion about how cloud-based VoIP works and why it is beneficial. That's why we have created this detailed guide to answer any questions you may have and help you make the best decision when it comes to integrating hosted VoIP into your organization.
In this guide, we will discuss the benefits of cloud-based VoIP and advantageous features of hosted VoIP.
However, before we get started, let's discuss what exactly hosted VoIP is and why VoIP is better than a traditional telephone connection.
Get Better Voice Solutions
Looking for a less expensive, feature-rich internet calling alternative to standard local telephone service?
What is Hosted VoIP?
Hosted VoIP is a third-party VoIP service that enables you to place calls using internet protocols. A third-party service provider installs and manages this internet-based telephone service.
To implement Hosted VoIP there is typically no modification to existing telephone wires or PBX systems as it works with your existing internet connection. This is an economical benefit for most businesses.
Furthermore, trusted service providers host VoIP services using secured and responsive cloud servers. This means you get a feature-rich, reliable, and secure VoIP system for your business.
How Does Cloud-Based VoIP Work?
Cloud-based VoIP is just another name for hosted VoIP service.
How does closed-based or hosted VoIP work?
Cloud-based VoIP combines VoIP handsets with cloud-based hardware and the service provider's cloud servers.
We have created a simple step-by-step guide of Hosted VoIP for better understanding.
Signaling
Signaling is the primary process of cloud-based VoIP architecture. VoIP devices communicate with each other over cloud signals.
Database service
Once the devices are connected, the database services go into action. Service providers secure the lines and generate the report for billing via IP addresses.
Calling
Lastly, cloud-based VoIP enables you to connect and disconnect a call as you normally do. Additionally, cloud-based VoIP defines call sessions and patterns after every call.
Of note, hosted or cloud VoIP requires a fast and stable internet. This is why many businesses upgrade to a more reliable and faster internet service when considering hosted VoIP for their business.
Fortunately, FastTrack Communication's 10G+ fiber optic services offer high-speed internet and a 99.99% reliable connection which is ideal for cloud-based or hosted VoIP.
If you want to know more about our VoIP services, click on the below button for a free consultation.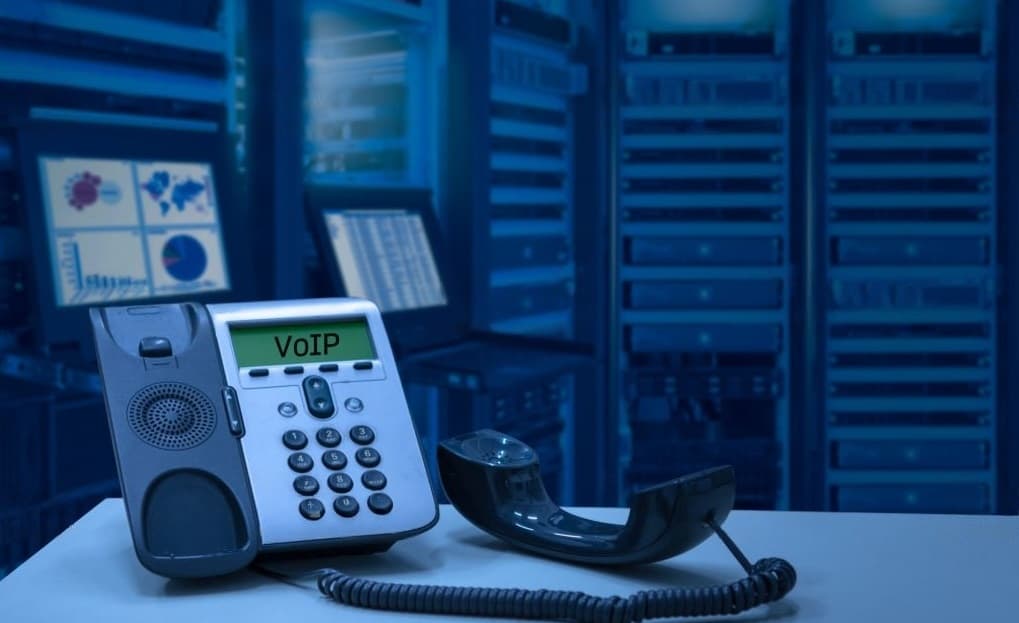 Which is Better: Cloud-Based or On-Premise VoIP?
Should your business choose Cloud-Based or On-Premise VoIP?
This is one question we're most frequently asked when a business is looking for VoIP services.
The short answer depends on a number of factors. As both options represent a different infrastructure and functionality while enabling VoIP, it's important to understand them in detail to know which type of VoIP is suitable for your business.
On-Premise VoIP
As the name describes, on-premises VoIP enables VoIP services within the boundaries of your company or organization. On-premise VoIP requires a complete hardware setup and phone extensions during the configuration.
The features may be the same, but on-premise VoIP is limited to use within the organization and are not as cost-effective. Your employees cannot place or receive calls outside the physical location of the business even if they're connected to the internet.
Cloud-based VoIP
Alternatively, cloud-based VoIP works with secure cloud servers of a third-party service provider. This means it doesn't require any complicated setup or costly hardware for the configuration.
In the case where you already have a compatible device, you can simply connect to cloud VoIP by consulting a reliable service provider.
Additionally, employees would have remote access to HD calling no matter where they are.
Choosing cloud-based VoIP is generally more efficient, flexible, and cost-effective for most businesses.
Features of Hosted VoIP
Hosted VoIP is most known for its productive features and cost-effectiveness. From HD calls to transcription, hosted VoIP offers many solutions to meet your business needs.
Let's take a look at why VoIP is becoming a popular choice among businesses.
Access to global calling
Global access is the primary advantage of VoIP. As it works with the internet, you can call anyone, including those outside the country without any additional charges.
Suppose you're operating in Durango, Colorado but have clients in Canada. With VoIP, you can send and receive calls with prospective clients, vendors, and collaborators without incurring additional charges on your monthly bill.
HD call quality
What happens when calls are dropped or there's interference on the line? This does not happen with hosted VoIP with FastTrack Communications. Ensure customer satisfaction with a clear high-quality call every time.
With FastTrack, Hosted VoIP utilizes fiber optic internet which offers HD call quality for reliable communication with vendors, clients, and team members.
HD voice call
As discussed above, you can enjoy HD call quality on voice calls with cloud VoIP with FastTrack. Whether you're conversing with clients or employees, it offers distortion-free audio every time.
Additionally, make sure you have a fast and reliable internet connection like fiber optic for the best results.
HD video call
In addition to voice calls, VoIP also allows you to conduct HD video calls. From image to audio, you will enjoy the best quality within the plan of your internet connection.
Call conferencing
Not only does it allow individual calls, but VoIP also supports voice and video conferencing. Say goodbye to frustrating meetings because of lag, distortion, or drops. With hosted VoIP from FastTrack, you get HD call quality regardless of the number of people in the conference, every time.
Call management
From call routing to call history, there are many things to manage when it comes to voice communication in business.
Cloud VoIP helps manage everything conveniently without adding additional devices. Hosted VoIP allows you to manage call volume, answer times, call duration, and other voice features.
Furthermore, you can also schedule calls with clients according to your availability for better flexibility in communication.
Customized Caller ID
If you're using a cloud-based VoIP, you can also provide additional business information with your business number. Whether you want to add descriptions or images, VoIP allows you to do that. Whenever a customer visits the contact info, it will display your business profile and build credibility at first contact.
Call recording
Suppose you get multiple orders via a phone call and you forget which products were ordered by which client. With VoIP, you can record calls in high quality and store them on the cloud server for better accessibility.
Call block & spam
VoIP allows you to block calls and submit spam reports of fraudulent calls. It's easy to block a call and report the caller as spam with VoIP. This frees up time for your employees to handle more important matters.
Integration with CRM
CRM (Customer Relationship Manager) plays a crucial role in keeping your business on track. How do the various VoIP features help with CRM?
Cloud VoIP systems are compatible with CRM integration, so whether you want to explore customer info or analyze tickets, integration with CRM will help you meet your customer needs.
Built-in analytics
With CRM integration, you can analyze real-time call metrics, including volume patterns and inbound calls. It delivers real-time insights with pie charts, timesheets, and bar graphs for better analysis. Using this info, you can understand your customer call patterns and satisfy them accordingly.
Social media messages
Hosted VoIP allows you to send and receive social media messages using your existing CRM. Make sure your CRM is compatible with social media integration for the best results.
Voice assistant
Voice assistant is one of the most beneficial VoIP features for businesses. Voice assistant allows you to call attendants, voice messages, and transcription just by speaking.
Voice assist can follow commands like the dialing of numbers, displaying reports, and managing calls. Imagine accessing various productive features without even touching your VoIP device.
Auto-attendant
There are times when you're driving and not able to pick up an important call from your client. The auto-attendant feature of VoIP can relay a customized message and keep your client engaged while you are unavailable. Whenever anyone calls you, the auto-attendant will display the pre-recorded message until you pick up the call.
Voice-to-email
Besides auto-attendant, voice-to-email is another of many VoIP features that helps businesses run smoothly. This feature allows you to share or receive voicemails and messages via email.
Toll-free numbers
With VoIP, you get toll-free business numbers available 24/7 for superior customer service. In other words, your customer will not be charged for calling your business.
FastTrack Communications elevates your business communication experience with Cisco-based hosted VoIP services including all the time-saving and beneficial features you need.
If you already have a Cisco-based handset, you can convert it into VoIP without any additional installation. Call us now at 877-755-0558 and request a quote for your business or click the button below.
Empower your Workforce with Cloud VoIP
Below are the top six ways in which VoIP empowers your workforce.
No slowdown
When it comes to choosing a voice solution, nothing is more important than stability and uptime. Cloud VoIP works with your existing internet connection and efficient cloud servers.
With cloud-based VoIP, you don't encounter any unexpected problems or slowdowns even during high internet volume. Make sure you have a fast and stable internet connection like fiber optic for the best results.
Data security
Besides stability, data security is another major highlight of cloud-based VoIP systems. Unlike traditional telephone networks like a PBX system, VoIP doesn't use telephone copper lines to transmit RF signals which are vulnerable to hackers.
If your hosted VoIP is utilizing a fiber optic internet connection, your VoIP will be impenetrable to cyber criminals who are unable to tap light signals. This means your data stays secure during calls.
Remote Access
Another benefit of cloud VoIP over VoIP with on-premises infrastructure is remote access. On-premise VoIP restricts you within the boundaries of your business.
As cloud-based VoIP connects calls via the cloud, you can use VoIP anywhere to make calls and receive them. This is especially useful if you have a work-from-home model, as it helps save costs without affecting your business productivity.
High scalability
Growth and development are the nature of every business. Cloud VoIP is flexible and scalable enough to grow with your business. From phone extensions to cloud storage, you can scale the VoIP in the way you want.
Easy installation
Cloud VoIP doesn't require a complicated setup. Unlike the traditional PBX system, you will not need additional wiring or telephone boxes in your business.
Hosted VoIP is also compatible with existing handsets. For instance, you can enjoy Hosted VoIP solutions from FastTrack Communications if you have a cisco-based handset.
Cost-effective
From installation to maintenance, the VoIP system helps you save the cost of your business at every level. For instance, FastTrack Communications offer fiber optic-based, and up to 99.99% reliable Hosted VoIP for just $25 per line per month.
If you're looking for a cloud-based VoIP, call FastTrack Communications at 877-755-0558 to consult our professionals for free
NEED HELP WITH YOUR INTERNET
FastTrack Communicatioins provides the most effective and robust internet solutions in Durango, CO and nearby areas. See our comprehensive internet bundle plans and learn how our services can help local businesses and communities with their internet.
Are You Ready to Switch to Hosted VoIP?
When it comes to enabling voice services, cloud VoIP has no alternative in the market. From HD call quality to remote access, it offers a variety of features with your internet connection.
You can enjoy fiber optic-based VoIP solutions for just $25 per line per month. All you need is to consult the professionals of FastTrack Communications and get a quote for your business.
FastTrack is the only locally owned and operated fiber optic-based internet provider Durango offers. FastTrack has a 100G internet backbone and fiber optic network of over 450 miles. With this, we offer the industry's leading Hosted VoIP solutions in Colorado.
Our approach is beyond just offering fiber optic-based VoIP. As one of the premier Durango internet providers, we offer blazing fast internet up to 10Gbps network speed to meet your business needs.
FastTrack's premier service connects primary markets in Colorado and New Mexico making it one of the top Farmington, NM internet providers in the region.
As one of the leading internet providers in Farmington, NM, we have the right technology for your business to succeed.
You're just a phone call away from expert consultation! Call FastTrack today at 877-755-0558 or click the button below for more information.