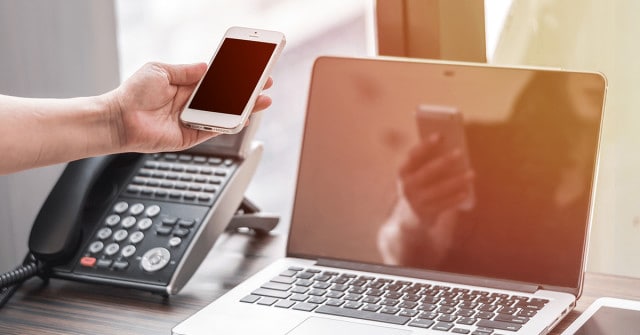 Having a reliable business internet connection means so much more than just browsing the internet. If you are a small business owner, your needs can range from online banking and moving large amounts of data to video conferencing and using cloud-based applications.
As technology develops, your business depends on the internet to meet revenue goals and to provide good customer service to your clients.
To keep up with the demands and stay competitive, more and more businesses are looking into small business VoIP. This is the technology that is surpassing the traditional telephone communication systems to increase productivity and efficiency.
A VoIP phone system uses the internet for calling instead of using older copper wire technology.
Fortunately for you, you can find the best VoIP for small businesses in your region. Just reach out to the professionals at FastTrack Communications and discover how they can help your business.
FastTrack Communications is the only locally owned and operated small business VoIP provider in your region and headquartered in Durango, CO.
Before we focus on our service advantages, let's explore what VoIP is and how it can facilitate efficiency in your small business.
What is a VoIP phone system?
VoIP (Voice over Internet Protocol) is a calling system that allows you to place calls over the internet.
It uses a router to convert voice signals into data and transfer it over the internet. Unlike older standard phone systems, a VoIP phone system does not operate on telephone lines. This means it's efficient, more reliable, and costs less to operate than traditional systems.
As VoIP works with IP (internet protocol), you can make a call anywhere around the world with your existing internet connection.
Suppose you have a B2B service business in Durango and need to call a client living in California. With VoIP, you can place the client call in HD quality without updating your internet data plan. You can add voice services for as low as $25 per month for one line using your current internet service. You can keep your numbers and place free domestic long distance calls.
No doubt cost-effective calling is a benefit of VoIP, but it offers so much more. Besides the usual voice calling, it supports text messaging, video chats, conference calls, auto attendants, and much more.
Even if you want to record or block a contact, it is all possible with a VoIP phone system. That's why experts recommend VoIP for small businesses instead of a traditional telephone connection.
If you are only considering VoIP and already have an internet provider for your business, call FastTrack Communications to update your phone system.
We are the only locally operated fiber optic-based internet and small business VoIP provider in the region and headquartered in Durango, CO. Call us now at 877-755-0558 or drop us an email at info@fasttrackcomm.net to explore our professional services.
Why do small businesses need a VoIP phone system?
Enhanced Communication:
Communication is the key to success for every entity, especially small businesses. VoIP phone systems ensure a reliable and efficient communication network for the best results.
Unlike old traditionally wired telephones, VoIP allows you to place free domestic long distance calls and we offer a competitive international calling plan. With VoIP, you can call internationally at a less costly rate and expand your market, which can help grow your business.
Easy to Install and Use:
Small business VoIP does not feature a complicated setup like traditional telephone wiring or an old PBX system that your business may be using.
An expert internet service provider like FastTrack Communications will set up a VoIP system in your business using your existing CISCO handsets or buy or lease them from FastTrack. There's little downtime to train employees or reset standard operating procedures.
No Breakdowns:
Reliability is what makes VoIP the best voice solution for small businesses. Unlike other wired systems, weather conditions are not a factor and do not cause breakdowns in VoIP.
No matter the weather, your small business will be operational 365 days a year as long as you have internet. VoIP offers reliable calling 24/7 for the whole year.
Security:
The major downgrade of telephone lines is they cannot be encrypted. VoIP works with internal IT infrastructure and your data stays safe from cybercriminals.
That's why experts like FastTrack recommend VoIP for small businesses instead of the traditional telephone connection.
Multi-tasking:
With traditional phone systems with multiple lines, handling an increase of incoming and outgoing calls could overwhelm your staff.
With VoIP, every employee gets a separate mobile number, and they are free to make business calls whenever required. Small business VoIP promotes multi-tasking and optimizes productivity.
FastTrack Communications understands the importance of VoIP for small businesses. Thus, it offers top-notch VoIP services using their 100G fiber-optic internet backbone that spans the region.
As a locally owned business, we offer fast installation and a 99.99% reliable network to meet your needs.
Key Benefits of Using VoIP for Your Business Phone Service:
Exceptional Call Quality:
The VoIP phone system includes HD calling. From conference to client calls, VoIP delivers exceptional call quality to support communication.
If you are running a small business, VoIP allows clear calls for voice calls or video conferencing on mobile. Customer satisfaction increases with clear communication.
Multi-Functionality:
HD calling may be a benefit, but VoIP has a lot more to meet your small business needs. As VoIP works on IP (internet protocol), it offers more functionality than old copper wire telephone systems.
With VoIP, you can access functions like text messages, video calling, personal caller IDs, and call blocking. Its feature-rich compatibility makes it the best voice solution for small businesses.
Portability:
In a world of smartphones, you cannot expect a voice solution to be confined to one place. With small business VoIP you can make calls anywhere.
For instance, FastTrack Communications has a fiber-optic network over 50 miles and a redundant fiber network from Albuquerque, NM to Denver CO and back. You can make business calls anytime and anywhere within the network.
Automated Assistance:
Streamline processes and free up your time to complete tasks by utilizing automated features. A VoIP business phone allows you to add automated assistance. This is especially helpful for answering your customers voicemail messages. Or help with personal navigation to allow the customer to find the right person to speak to without delay.
Call Recording Service:
Call recording aids small businesses to review customer needs and promote the accuracy of operations.
Never again have a discrepancy when it comes to miscommunication. With VoIP, you can install call recording technology and listen to the call recording to ensure high-quality service for your customers and vendors.
Increased Productivity:
From HD calling to recordings, all the features increase the productivity of your business. VoIP business calling enhances communication, customer interaction and helps you achieve your business goals.
Whether you have a grocery store or startup, there's nothing better than a VoIP setup for small businesses.
Cost-effective:
Increasing productivity, doesn't mean you need to incur high costs for it. VoIP is a great example of this.
Small business VoIP is affordable and does not need costly maintenance like old telephone systems. Thus, you can enjoy HD calling and top-notch functionalities at an affordable price.
Are you looking for an affordable VoIP option for your small businesses? FastTrack Communications is the best place to end your research journey.
Our VoIP plans start from just $25 per month for one line. With FastTrack, you can keep your numbers, enjoy free local calls and voice messaging. So, call us now at 970-247-3366 or drop us an email at info@fasttrackcomm.net to explore the best VoIP for small businesses.
How to Choose the Most Appropriate VoIP Service Provider?
VoIP services start with the service provider. Every small business VoIP service provider has different resources, services, and prices.
So, to help you choose an appropriate VoIP service provider for your business, here are some factors that will help you in selecting the best service provider.
Internet Connection:
Internet connection is the lifeblood of a VoIP phone system. Therefore you'll require a fast and stable internet connection for uninterrupted performance.
For optimum performance, you should only consider an internet service provider that has a fiber optic-based internet connection instead of DSL or satellite. Fiber optic internet is 100 times faster and 99.99% reliable as compared to outdated technologies.
Security:
Whether you employ 10 or 100 staff, there's nothing more important than security. Before choosing a provider for your small business VoIP, ask about the measures taken to protect you and your customer's data.
Cyber security is a real concern and should be a high priority when it comes to telecommunications.
Network Stability:
When it comes to operating a small business VoIP, network stability is a necessity. Here only a fiber optic network can meet your requirements. The reason for this is it maintains the network even in bad weather and doesn't lose the bandwidth due to geographical obstacles.
Customer Support:
No doubt, VoIP is a reliable and easy-to-use source of communication. But your business may receive customer questions at any time of day. Choose a service provider that ensures reliable customer support to resolve your customer or client questions. Local customer care is a must for most businesses.
Price:
Besides service, the price of VoIP plans is crucial, especially for a small business with a limited budget. Before hiring any service provider, always check the fine print of their plans to make sure you have all of the details. Compare the plans, and be aware of hidden fees.
Why Choose FastTrack Communications VoIP for Small Businesses?
Hosted Voice Solutions:
FastTrack Communications offers innovative hosted voice solutions operated with Cisco handsets. Unlike the PBX system, our hosted voice works with fiber-optic networks for better call quality and reliability. Every employee will have a unique number and can make calls from anywhere within the FastTrack network.
Fiber-Optic Internet:
As previously referenced, a VoIP phone system requires high-speed internet. FastTrack understands this and offers the fastest fiber internet connection in the region. With fiber optic technology, we offer 10G internet that is 100 times faster than other connections. We make sure you enjoy HD call quality and other voice functionalities without any delays.
99.99% Uptime:
When it comes to operating a small business VoIP, fast internet is not enough. Besides speed, the connection must be stable and feature high bandwidth for the best results. FastTrack VoIP solutions employ a 99.99% reliable fiber optic network to meet your business needs. Regardless of the weather, your business will enjoy uninterrupted HD calls for the whole year.
24/7 Technical Support:
Unlike other nationally-based companies, FastTrack is a regionally based fiber optic internet provider. As a locally-based business, FastTrack understands what a local business requires from a small business VoIP service provider. We provide 24/7 technical support for our customers. If you have any questions, we are always here to help.
Affordable Plans:
FastTrack Communications is known for its affordable and best VoIP for small businesses. Not only do we offer high quality service,we offer competitive plans for internet, voice and data transport services.
Our small business VoIP plans start from just $25 per month on number/line. So, you will only pay for the services you need for your business.
From VoIP planning to installation, we have a complete set of resources to meet your needs. Want to know more about our services? Call our professionals at 970-247-3366, we're here for you 24/7.
Conclusion:
Fiber-optic internet is optimizing the operations of small and growing businesses in the region. Small business VoIP has replaced outdated telephone and PBX connections. In comparison, VoIP technology offers HD calling, text messaging, call recording, video calling, and much more. And, all this at an affordable price that fits the budget of your small business.
Ready to install the best and most innovative VoIP phone system for your small business? Just contact our experts at our local number 970-247-3366 to discover VoIP options available in your region or call our toll free number at 970-755-0558
FastTrack Communications is the only locally-owned fiber optic internet provider that offers exceptional quality services at an affordable price. We can't wait to welcome you to the FastTrack family.